About us
Below is more information on our team over at Tucker CO. We all work together to provide our owners the highest level of service in the property management industry.
Richard Prater

Owner/Broker

Richard Prater is a licensed real estate Broker, who specializes in residential property management. Property owners benefit from his 30 plus years of background in real estate investments and management. Richard is the past President of the San Antonio Board of REALTORS and was named "REALTOR Broker of The Year" for San Antonio in 1997.

Sam Prater

Manager

Sam has held an insurance license in the state of Texas, as well as a Real Estate Inspector's license, performing over 800 residential and commercial property inspections. His background in these two fields has proven to be an asset in the management of rental properties. Sam's level of expertise has been a great benefit to our Owners.

Linda Prater

Owner

Linda has been a REALTOR for 35 years, is a member of the San Antonio Board of REALTORS, Texas Association of REALTORS, and the National Association of REALTORS. Her years of experience handling the finances of property owners are of great benefit to our management organization.
Our Team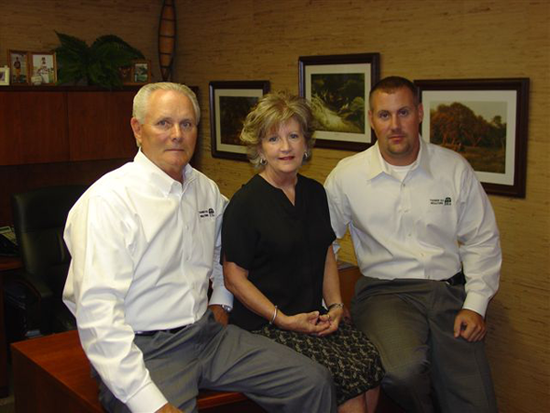 From Left To Right - Richard Prater, Linda Prater and Sam Prater
Testimonials
Richard,
I just received your notice that the lease is up on my rent house and it will be time for a new tenant. Wow! I cannot believe that you have handled that property for me for almost 21 years! I just wanted to thank you for taking such good care of the property. I have never been without a tenant that I can think of and it is great not have to worry about who to call for repairs, plumbing problems, etc. Your staff has always been so nice to me over the years and is wonderful about keeping me informed if there is an issue with the property. I just wanted to take this opportunity to thank you for taking such good care of me and my rent house. You're the best! If you ever need a referral, be sure to have them contact me!

Vicki Ravenburg CPA

Mr. Richard Prater,
Hi there! I just wanted to thank you for helping my move to Osan, Korea, become such a smooth move. I know it's your job, but I feel you did an excellent job of taking care of renting my house. From thoroughly and patiently explaining renting procedures to me, finding a renter and advising me on putting my house on the market, you were phenomenal. Thank you for your professionalism, hard work and continuied service. I appreciate all you do.

Neomi Evangelista Client

Joan and I have a 25 year relationship with Richard and Linda Prater at ERA Tucker. They have looked after several of our rental homes—and these homes were purchased thru ERA Tucker. Some of these homes have been sold thru them at very satisfactory prices. I would not even consider doing business with anyone else because I trust them and appreciate their business integrity.

William J. Porter M/Gen (Ret) USAF

Dear Tucker Realty Team,
Thank you for all you did to manage my house then sell it. You always gave me great advice and I knew I was in good hands.

Mary Scott Hunter Client